The Slurpr – Mother Of All Wi-fi Access Points!
Press Release – May 29, 2007
On June 1, 2007 Mark Hoekstra (geektechnique.org) will preview The Slurpr at The Next Web Conference in Amsterdam. The Slurpr is a high speed Wi-Fi broadband router that takes up to six available Wi-Fi channels and combines them into one free and ultra broadband connection. Fast and Free Internet Access with just one box! Now you can enjoy the great advantages and comfort that come with a high speed internet connection, all for free.
The Slurpr automatically connects to the 6 strongest available Wi-Fi channels in your neighborhood to give you unparalleled connectivity. To make this happen, 6 Wi-Fi adapters are combined in one small package. The six extra sensitive antennae give you an even wider range of connectivity.
The Slurpr will be on display and available for pre-ordering at The Next Web Conference.
Technical specs: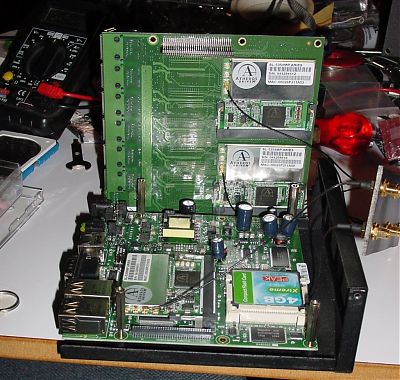 The Slurpr consists of a Six-channel wardrive-box broadbandrouter with 6 11/54Mbit fully configurable Wi-Fi connections bundled and redistributed to 9 wired ethernet connections. A 266MHz MIPS CPU with 64MB RAM with Linux installed on a 1GB Compact Flash card powers this extraordinary set-up.
Both the hardware and software of The Slurpr will be released under a Creative Commons license making it easy for users to build their own Slurprs and using and enhancing the software.
More information on:
http://geektechnique.org
http://www.slurpr.com
http://2007.thenextweb.org
How it all started:
http://www.bomega.com/2006/07/31/who-will-build-me-a-wi-fi-canalizer/
Read about it on:
Engadget:
The Slurpr WiFi aggregator promises "free" broadband — and jail time
Nu.nl
Super-wifi via gecombineerd signaal
Milko Georgiev's Blog
WiFi Piggybacking Is Getting a New Dimension
Gizmodo
Slurpr Wi-Fi Box Sucks Up Six Signals for Super Broadband
Technabob:
slurpr: fast free wi-fi access, with a (big) catch
Webwereld:
Nieuwe wifi-router kan zes wifi-signalen bundelen tot één
Broadband Reports:
Slurp! Stealing Broadband Just Got Easier
DSL.sk:
WiFi router sa pripája na 6 kanálov súčasne
Wired Gadget Lab:
Slurp Your Neighbors' Broadband With The Slurpr
PiTelefonia:
WiFi, il super-router è un pirata
Overclockers.com.au:
monster wireless access point
Korben.info:
Le suceur de Wifi
Zedomax:
For serious networking only
Slashgear:
WiFi aggregator gobbles up signals
Wireless Weblog:
Introducing the (Legally Iffy) Wi-Fi Slurpr
The Boy Genius Report:
Slurpr to hijack your neighbor's broadband, your freedom
Wave Motion Cannon:
The Slurpr WiFi aggregator: up to 324Mbps broadband for "free"
DigitalTrends:
Slurpr Promises to Aggregate Free Wi-Fi
Wi-Fi Net News:
Don't Look Behind You: It's Slurpr!
Bright.nl
The Making of Slurpr
Techworld:
Nederlander ontwikkelt zeskanaals wifi-slurper
Tweakers.net:
Slurpr bundelt open wifi-kanalen tot 'gratis internet'
We also made it to BoingBoing and a bunch of other cool websites. In fact, so many websites are writing about the Slurpr that I gave up on linking to them here. Instead I'll give you a Google and Technorati search link.
Search for Slurpr at Google:
http://www.google.com/search?hl=en&q=%22Slurpr%22&btnG=Search
Search for Surpr at Technorati:
http://technorati.com/search/slurpr